SERVPRO Provides Fire Damage Restoration to Los Angeles
1/7/2021 (Permalink)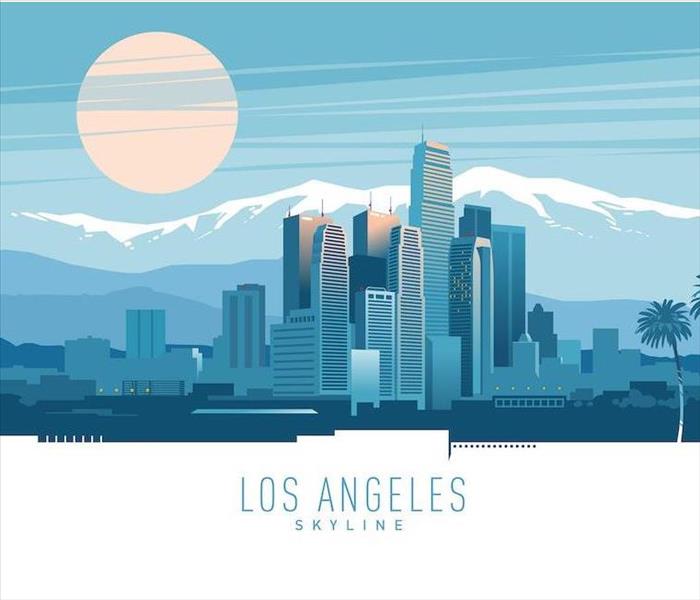 If your home is damaged in a house fire, SERVPRO of Highland Park is here to help. Contact us for any fire restoration needs.
Los Angeles Communities Count on Us to Restore Their Homes When Fire Strikes
Highland Park is a beautiful historic neighborhood where a diverse number of people live. As part of the city of Los Angeles, it is a thriving community. Today over 56,500 residents are living, working, and playing in the area.
Home to Native American Indians
The first people group to settle there were the Paleo-Indians thousands of years ago. They lived during the Late Pleistocene period and were also known as the Lithic people. They were hunters and wore clothing made from animal hides. They also used the hides for shelters. Pleistocene mammals that lived at the same time included:
Giant beaver
Steppe wisent
Musk ox
Mastodons
Woolly mammoth
Ancient reindeer
The Tongva tribes would settle in the region later. Their village names mainly identified them during the pre-colonial period. As the area was colonized, they were known by the names of the Spanish missions constructed on their land, so they became known as Fernandeño and Gabrieleño. The Tongva were a significant influence when the Europeans began to arrive. The Chumash were another local tribe. They built plank-built boats that allowed them to establish an extensive trade network.
The Founding of Los Angeles
The city of Los Angeles was founded in 1874. Not long after that, Jose Maria Verdugo was granted Rancho San Rafael. He was the Corporal of the Guard at the San Gabriel mission. This piece of land was over 36,000 acres and included what is Highland Park today. The ranch was eventually put up for auction in 1869 after a drought caused financial difficulties for the Verdugo family. Albert J. Chapman and Andrew Glassell purchased the tract of land. They then leased it to sheepherders. The land changed hands again in 1885. Albert Judson and George Morgan became the owners, and they combined that tract with other parcels purchased from the Verdugo family. With the combined pieces of land, Highland Park was born in 1886.
Highland Park Becomes Part of Los Angeles
One of the things that allowed Highland Park to move forward after the land boom of the 1880s ended was the railroad. The railroad built two lines through the community. In 1895, Highland Park was annexed to Los Angeles.
Artists & Intellectuals Settle In
The early 20th century would see the beginning of the Artsy movement, and Highland Park, along with Pasadena, would be where the movers and shakers of the movement would settle. By the 1950s, many of them would move on. Today the influence is back. Artists love the area and have opened:
Trendy shops
Bars
Galleries
Restaurants
Tech startups
Boutiques
It is also home to Stones Throw Records, a recording studio.
A Strong Jewish Community
Temple Beth Israel of Highland Park and Eagle Rock established a group in 1923, and the building was constructed in 1930. The Wilshire Boulevard Temple, built in 1929, is the oldest still-functioning synagogue in Los Angeles. Temple Beth Israel is the second oldest.
Gang Violence
Gangs became a serious problem for Highland Park in the last part of the 20th century. Street gangs took over various parts of the neighborhood, and major raids took place to route out the gang members. Due to law enforcement efforts and community awareness, much of the crime had decreased by 2010.
Galco's Soda Pop Stop
Galco's Soda Pop Stop has been in business for over 100 years. It began, in 1897, as an Italian grocery store owned by Galioto and Corto Passi. It was moved from Downtown Los Angeles to Highland Park in 1955. In 1995 the store began its unique history of independent sodas. John Nese decided to go this route as the grocery store was going downhill due to big-box stores' impact. He had inherited the store from his father. Today you can find over 700 soda types, sandwiches, candies, and beer. Some of the more well-known brands they carry include:
Afri-Cola
Bubble Up
Dad's Root Beer
Faygo
Fentimans Curiosity Cola
Green River
Jolt Cola
Jones Soda
Kickapoo Joy Juice
Manhattan Special
Moxie
Mr. Q Cumber
Nesbitts
Pennsylvania Dutch Birch Beer
If you want to design your own soda, you can do that too at their Soda Creation Station. Just choose your flavors and how much carbonation you want. Then cap and label your own bottle. During warmer weather, the Soda Shop hosts the annual Summer Soda Tasting attraction.
Take Me Out to the Movies
Many television shows and feature films have had portions filmed in the Los Angeles Police department building. Highland Park has been the location for several motion pictures, including:
The Lincoln Lawyer
Reservoir Dogs
Yes Man
Gangster Squad
Cyrus
Tuff Turf
The neighborhood is home to Smith Estate, also known as El Mio, a historic hilltop Victorian home. It is a Queen Anne style home constructed in 1887. Judge David Patterson Hatch had the house built, and it was finished in 1890. Charles Warren Smith bought the home in the 1890s. It would stay in the family until the 1960s. Several horror films have been filmed there, including Silent Scream, Spider Baby, and Insidious: Chapter 2.
SERVPRO Provides Fire Damage Services in Los Angeles
Any home can be subject to fire damage at any time. Older homes can be especially vulnerable. If a fire strikes your home, SERVPRO can provide immediate mitigation. We offer emergency services such as:
Boarding up
Dealing with safety issues
Helping with utility concerns
Once we are permitted to enter the building and ensure all safety concerns are dealt with, our technicians do a scope of the home. A plan gets put in place, and the head of the crew sees that everyone gets moving. There are specific steps that are common to most situations, including:
Removal of charred debris and unsalvageable items
Water extraction if needed
Smoke residue and soot removal
Cleaning and sanitizing
Deodorizing
Repair and restoration
If you need fire damage services in Los Angeles, contact SERVPRO of Highland Park at (323) 255-1001. We understand the impact even a small fire can have on a home. SERVPRO is here to help. We're Faster To Any Size Disaster.